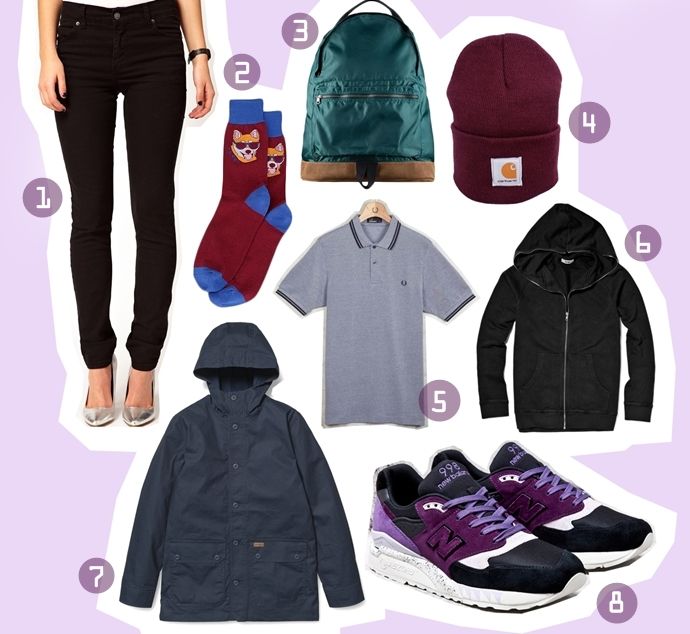 SO, FUCK. Sneaker Freaker has teamed up with New Balance for their 10 year anniversary to make a wonderfully brilliant 998 sneaker. It has a speckled sole and is in different shades of purple suede which is one of my most loved colours. Its release is this Saturday but I really cannot spend $199.95 on kicks right now, and if I did but them, I would NOT wear them because they are pretty much a collector's item.. not to mention they're as beautiful as Jesus with a glowing halo in budgie smugglers.
Melbourne is getting a little cooler right now. Tempertaure is still in the mid-high 20's but it's better then high 30's days where I'm melting my freckles off. Having said that, I thought I'd have a little fun and whip up a little expensive outfit wishlist I'd wear styled around the shoes for the cooler weather months! HOPE YOU LYK! xo
1. Jeans :
Cheap Monday
$80.47
2. Socks : Urban Outfitters $12
3. Backpack :
A.P.C.
$168
4. Beanie :
Carhartt
$39.95
5. Polo :
Fred Perry
$99.95
6. Hoodie :
Acne
$158
7. Jacket : Carhartt $173
8. AMAZING KICKS AGH $199.95 (early birthday present anyone?!?!) No, really.