Heeeey...
It's been like a week since I last posted, and I have an explanation- my computer crashed for like the 10th time in 2 months! Grrr I'll be getting a new one soon and hopefully posting more often!
Eh. ma. gawd.
I've always hated wedges until recently. Whenever I thought about them I just thought of the ugly cork ones that you wear to the beach. Thankfully some geniuses have developed nicer looking ones! They are the hottest things ever, especially if they have a platform as well. I'm totally in love, I better find myself some of these ASAP. Oh, and I'm lusting over Tanya S' crystallized wedges... mmmm!
//T A N Y A S//
//V E R S A C E//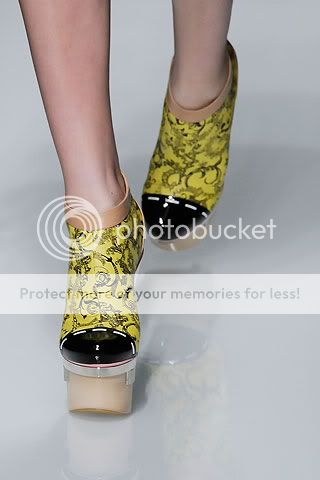 //C H R I S T I A N D I O R//
//A L E X A N D E R W A N G//
//Lindsay Lohan- Creative director of Emanuel Ungaro//
Why is everyone being so harsh on Lindsay? Sure it wasn't the best collection ever but it is her first one. And I've gotta say, I do like those blazers! But, I really don't get the heart shaped nipple pasties!
"Ms. Lohan's arrival at a 45-year-old Paris house known for $1,500 dresses and a tradition of couture craftsmanship is entirely different, something akin to
a McDonald's fry cook taking the reins of a three-star Michelin restaurant
." ~The New York Times. "Oh snap!"